The Tbilisi-Makhinjauri main railway magisterial modernization project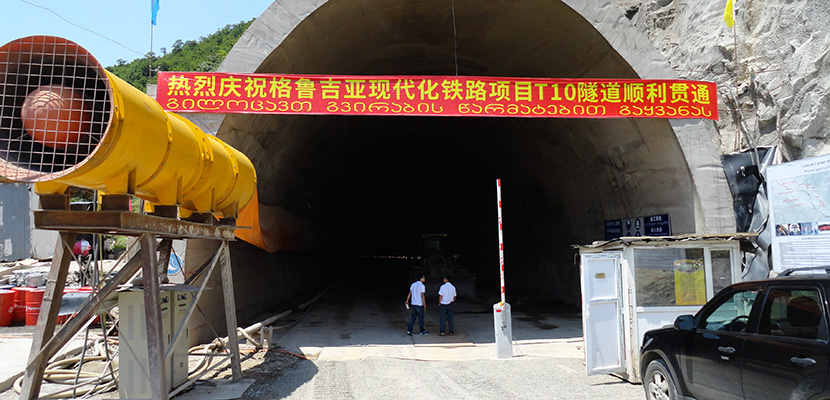 JS Georgian Railway
Along with the International Federation of Consulting Engineers (FIDIC) Yellow Book forms and rules, JS Georgian Railway is implementing the Tbilisi-Makhinjauri main railway magisterial modernization project. The planning and construction works of the project are being carried out by the international tender-winning construction company, '23rd Bureau Group of the Chinese Railway' Ltd (hereafter 'Contractor') on the basis of the August 12 2011 contract. Supervision of the construction works is being carried out by another international tender-winning company – the ILF and DB International Consortium.
The main goals of the Tbilisi-Makhinjauri railway magisterial modernization project are:
Increasing the safety of mobile carriages;
Increasing the transportation capacity of the railway line;
Decreasing travel time.
In order to achieve these goals, within the project, partial modernization of the existing railway infrastructure has been carried out. Railway rails were replaced or thoroughly repaired on the main line, as well as electric supply systems, railway buildings, bridges and viaducts.
Construction works were divided into two parts. One part, which includes the renovation of rails and electric supply systems, is being carried out by the Railway itself. The territory includes the Tbilisi-Khashuri and Zestaponi-Batumi-Poti districts. The second part envisages construction of new railway land flats, railway tunnels, railway bridges and other complicated engineering buildings (on mountain pass territory) and is being conducted by the Contractor.
Main characteristics of the project:
Construction length
• New rail length: 38 km
• Reconstruction of existing railway line: 23 km
Maximum inclination: 17.5% instead of the current 29%
Maximum radius of curves: 400 m instead of the current 200 m.
Currently, of the man-made constructions envisaged by the project, the following have been completed:
Construction of the 10th, 11th and 12th tunnels on the Zestaponi-Kharagauli line;
Excavation works of the 7th and 8th tunnels on the Moliti-Kvishkheti line;
Excavation works of the longest railway tunnels in Georgia (9th tunnel: 8.33 km).
Land levelling and new rail installation works on the Kharagauli-Zestaponi line are underway. Construction works envisaged by the project at the Shorapani-Dzirula stage (2324+700 km – 2325+320 km and 2325+580 km – 2327+338.8 km rails) are finished.
Construction of other engineering buildings such as bridges, retaining walls, water viaducts, etc. are ongoing. As of December 2018, the Contractor has finished 86% of the works envisaged by the contract.